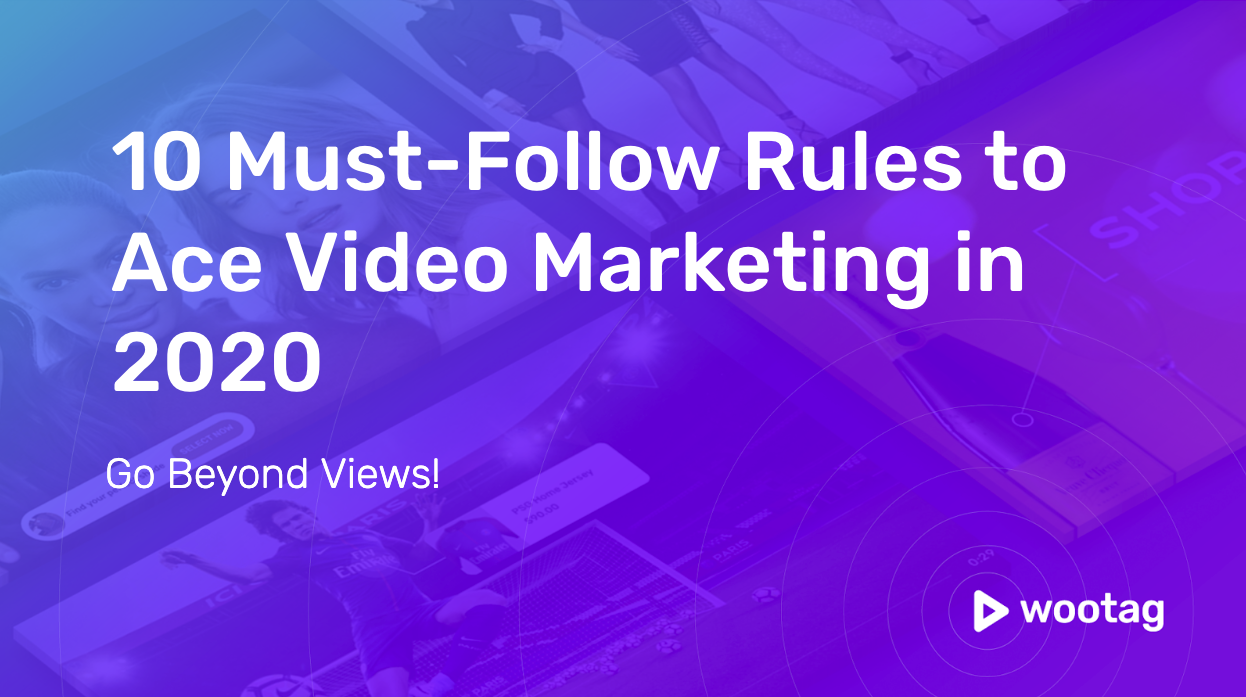 10 Must-Follow Rules to Ace Video Marketing in 2020
Raj Sunder, 3 years ago
0
6 min

read
1219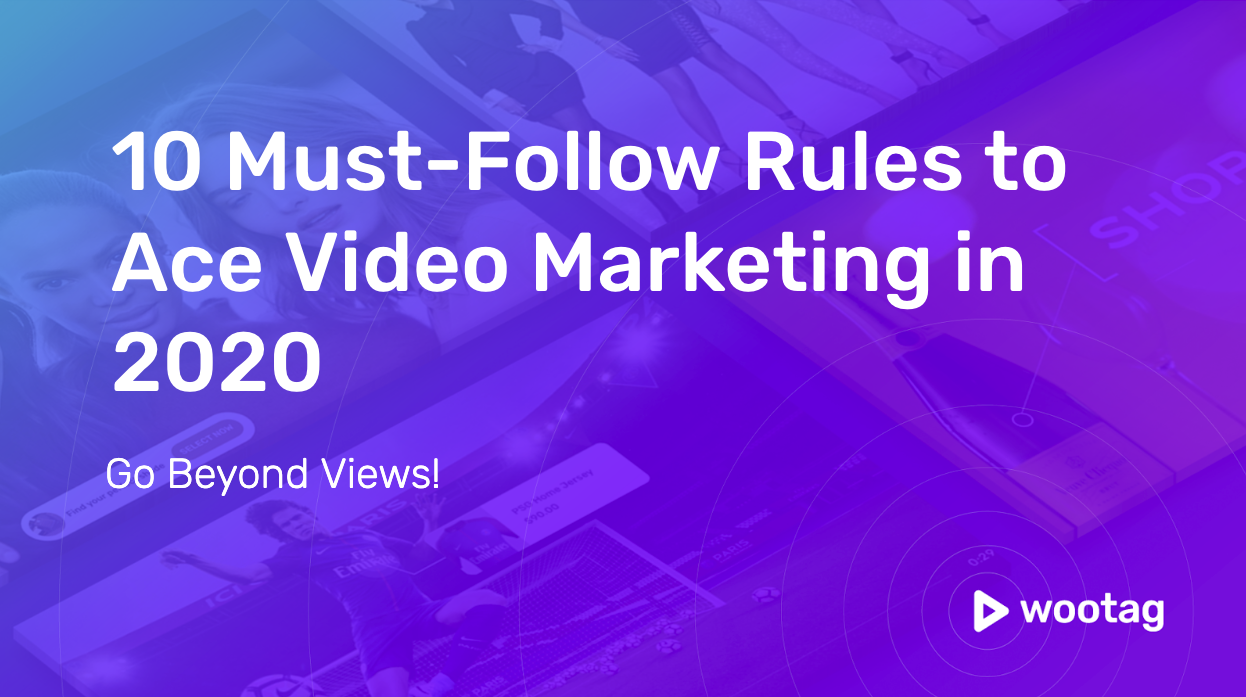 As we step into 2020, the use of video marketing by organizations is only growing. Be it FMCG, automobile, finance, fashion or any other niche, video marketing is a booming realm for everyone right now.
92 percent of marketers who are using video marketing say that it's an essential component of their marketing strategy. This number was 91 percent in 2019 and 85 percent in 2018. Also, 99 percent of marketers who use video for their marketing campaigns say that they will continue using video content even in 2020 (Source).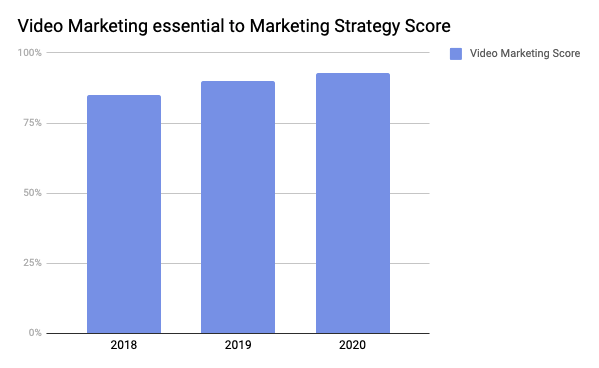 Nailing the video marketing ballgame
The above numbers clearly indicate how important video marketing is in today's brand marketing scenario. However, the question that crops up is how to get the best out of video marketing. Without much ado, let's take you through some of the rules that you must follow for this:
#1: Get your goals clear
The first step to acing your video marketing is to outline the goals you wish to achieve. It's perfectly alright to create videos for every stage of your conversion funnel, but not without deciding your target stage. Here's a quick overview:
Awareness stage: Create videos to attract new customers.
Consideration stage: Create videos to engage your audience.
Decision stage: Create videos that will close the sale and nurture your prospective customers.
You can also come up with video ideas to delight those people who have already made a purchase. Not to forget, an internal video would be a great way to recruit new employees or to boost the motivation of your team.

#2: Map out your buyer persona
After determining the stage of your marketing funnel, the video marketing rule you need to follow is finding your target audience. You need to define the persona of your buyers, meaning finding out those people who will watch and who will not watch your videos. This is particularly important when you are coming up with a new product or service. You can presume that people who wish to buy your product will also want to view your video content.
#3: Always tell a story
When you are creating video marketing content for your audience, you need to focus on bringing them some value. What could be more compelling than a story? This part is fun and tough at the same time. But once you do it, there's no looking back for your brand.
The story you weave should align with your target audience, must address their pain point, introduce your offering, and solve their problem. It's should be emotionally charged and inspire them to take an action. Also, putting the customer at the focal point of the story. Try making it as interactive as possible. Your brand can truly benefit from resonating with their personality. Here's an example.

#4: Get creative
Your story needs to be catchy and memorable (95 percent of video viewers remember the message). You also need to keep in mind various creative requirements. Know the people from who you need to get your video content approved. It could your founder, manager, or your marketing team.
You also need to know the time it takes to get and incorporate their feedback. On-the-spot feedback is good, but it takes time to implement them. Such sudden changes can through the entire video marketing process out of kilter. So make sure you prepare for it in advance.
#5: Keep the length of the video in mind
Believe it or not, the last decade has seen the rise of shorter advertisements. They are crisp, to-the-point, and impactful at the same time. In today's online world, where attention span is short, you need to say all you want in the fewest words possible. So, try to create shorter videos of 15 to 30 seconds.
However, the length will also depend on the distribution channel you are considering. No matter what, avoid going overboard with the length generally. Take YSL's "Holiday Shopping Fever" as an example. The brand showed its special deals in this short yet beautiful style gallery.

#6: Budget wisely
You wants results from your video marketing efforts, but do you think it will be possible without expending some cash? Well, certainly no. But for judicious allocation of marketing funds, you need to budget realistically and smartly.
Creating certain video content could cost you more than others. So you need to do your research before you plunge into production. You also need to figure how you plan to go about creating it—whether you want to shoot in-house or hire an agency.
#7: Be mobile-friendly
Each year sees a 100-percent rise in video content consumption through mobile devices. Also, 85 percent of adults use multiple devices (Source). You may want to create videos for the horizontal screen (for example, TV), but know that vertical screens are trending these days.
This is because such videos fill the entire screen space and eliminate distractions. A majority of people prefer holding their mobile phones vertically because it's just easier.
#8: Create websites with video content
To get the best out of video marketing, you need to focus on your website too. Video content isn't meant only for social media channels or YouTube. They are a major part of your website too. Users tend to spend more time on websites that have video content.
So, incorporating video content in your brand's website can help you make the best use of the content and showcase your brand.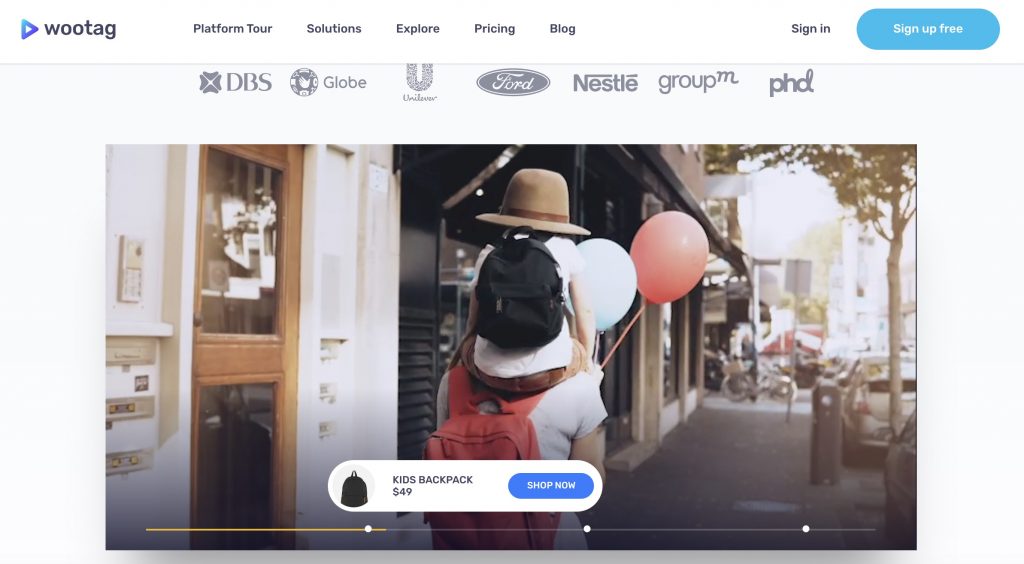 #9: Make video search friendly
Video marketing and SEO go hand in hand. Videos have gone closer to the top of Google's organic search results on both desktop and mobile pages, especially when the search engine is leveraging AI to crawl over snippets of video search queries.
As such, optimizing videos for search results is becoming increasingly important for brands and businesses. You should ensure that your video marketing takes care of this aspect.
#10: Have a call to action without fail
Last but the least, video marketing is incomplete without a call to action. You need to have a call to action at the end of your video to inspire your target audience to convert to an actual customer.
However, always remember that your consumers will be motivated to take an action, whether its clicking on your product or signing up for your email list, only if you offer real value to them, irrespective of your sales gimmicks and tactics.
Summary :
92 percent of marketers who are using video marketing say that it's an essential component of their marketing strategy. Having a defined goal to targeted persona to video creative along with a necessary call to actions plays a key role in your marketing strategy across the funnel.
Raj Sunder
Founder & CEO @wootag - Interactive Video Platform for All http://www.wootag.com , Always Learner, Gamer @ Heart, Tennis player,Chelsea follower!
Related posts