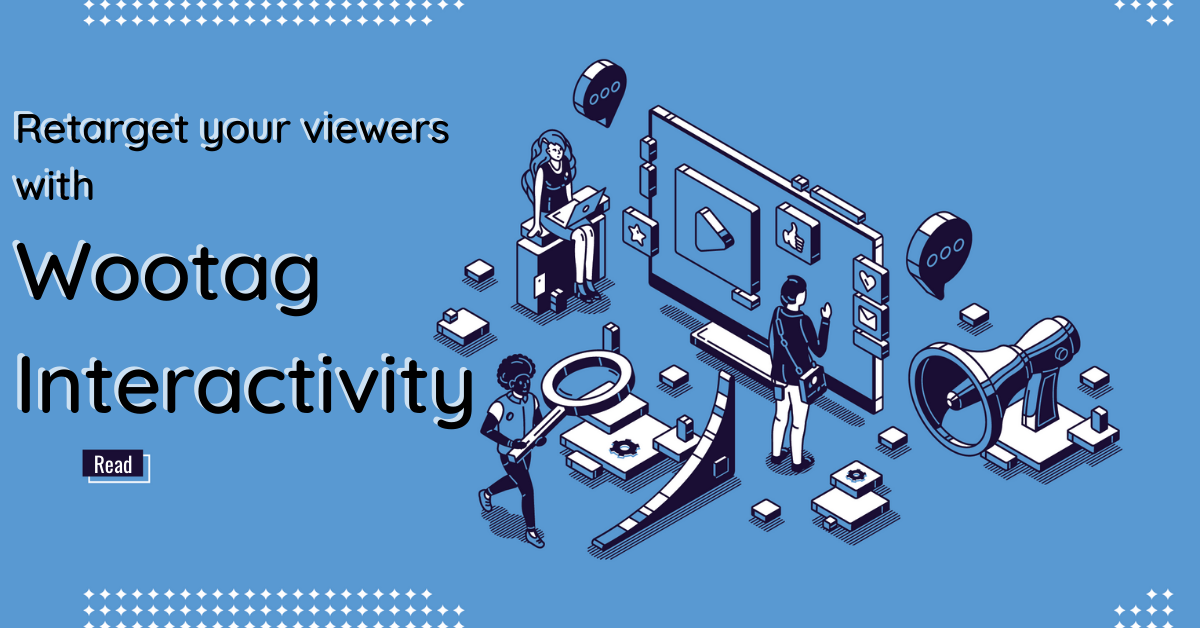 Amplify your campaign for success with Video Retargeting!
Pavithra Sundar, 2 years ago
0
6 min

read
1295
Video Retargeting Ads
Retargeting involves various different formats including video, display, text etc. In recent times, we have observed an increase in the popularity of video formats amongst consumers and hence by marketers. This is because it helps build potential customers, have an emotional connection with your brand and build brand loyalty.
As Wistia quoted, "We've found that, on average, viewers who complete our product video are 15–20% more likely to convert than passive visitors."
In this article, we will discuss how you can best utilize video retargeting ads to grow your campaign performance and achieve a better ROI.

Why should we go ahead with Video Marketing?
The primary reason marketers prefer videos for marketing is the ability to personalise and take the audience along with you on a journey. As Criteo put it,

"You're not just retargeting leads with information or products they've already seen, you're adding even more value by entertaining, inspiring, and engaging through visual storytelling."

What can you do with Interactive Videos?
Along with the increased consumption of video ads, video format is also highly engaging. Let's see 'Why' below:
Engage shoppers with personalized video content with user intent data, and product recommendations.
Gain instant access to new video inventory and audiences without the hassle and expense of video production, through dynamic generation of video ads using your product feed and brand guidelines.
Showcase relevant products within in-stream, out-stream, and in-app video ads that contain multiple links to product pages.
Drive measurable performance from a traditionally brand-oriented format, and determine a clear ROAS with transparent cost-per-click pricing and reporting.
Cisco forecasts that,
"In two years' time, more than 80% of internet traffic will be video-based."
For many brands, video retargeting is an important factor in reengaging with their consumers.
Why is Retargeting important?
Retargeting is a great way to amplify and drive top of mind recall for your brand/products to the consumers who have expressed interest previously. This process, treats each viewer uniquely with relevant ad content based on their behaviour — a better experience.

In the digital advertising world, 'Retargeting' provides the marketeers the chance to generate multiple impressions on a single viewer. In addition, retargeting allows you the ability to tailor the content to each individual based on their viewing history and where they are in your sales funnel. Showcase the preferred product they interacted with, relevant offers etc.

As Mailchimp quoted,
"Serious marketers today use retargeting as a vital tool to connect with their customers and increase their sales and customer loyalty."

When is Video Marketing helpful with retargeting?
Promote your Brand's top selling products.
Introduce new product collections.
Advertise your bulk-order products in a low cost manner.
Build awareness by driving top of mind recall.
Data driven reporting with video ad data on view time, VCR, CTR, Engagements & more!
Opportunity size with Video Retargeting
(Source: Criteo)
What are the different types of Video Retargeting?
REQUEST A WOOTAGED MOCK BASED ON YOUR OBJECTIVE
There are two types of video retargeting:
1. VWAs (Video Watcher Ads): These are the ads that are served to those who have already watched a video of your product/brand. Infact, you can base your targeting to be to viewer's who have watched a certain percentage of your video in terms of the VCR.
Ads that are served only to people who have watched your video. You can create ads that target only visitors who finish the video or target based on the percentage watched (i.e. 25%, 50%, and so on). These ads are dependent on a platform that can measure specific actions and play rates (Facebook, AdRoll).
2. VCAs (Video Content Ads): These are the ads that are based on the actions taken by your audience on your website which hosts video ads.
How does retargeting work? 
REQUEST A WOOTAGED MOCK BASED ON YOUR OBJECTIVE
An individual viewer is targeted with a single creative that re-directs them to your brand's/product website. The viewer's interaction with your ad is captured in line using tracking pixels.
Following this, on various media platforms, a second creative is shown to him looking at his purchase intent, product recommendations based on his previous behaviour and a personalised ad is delivered to him based on the inventory purchased – within in-stream, out-stream or in app etc.
Having been enticed by a personalized video ad containing products they are interested in, the viewer clicks on the ad and is deep-linked back to your app or website to complete the purchase.
Optimize your Video retargeting
As it applies to your campaigns, there is no one-size-fits all solution or approach that can be used amongst brands within the same vertical. Often the product type, target audience, objectives vary over time.
The same applies with retargeting.

With video retargeting, you can optimize your efforts by:
Running different creatives across platforms / custom sizes per platform that is best suited to a user behaviour.
Run video ads of different duration to gain insightful data points on your audience behaviour and gage interest.
Across mediums, experiment with different ad formats (video, display, text, images etc.) to further drive top of mind recall of your products/services.

In Summary,
Running video ads with retargeting has its unique challenges. However, leveraging Wootag's interactive platform will help you and your users to engage with the brand, understand user behaviour and leverage this useful information to guide them towards a final purchase.
Drive traffic to your website through Wootag's interactive video and display formats. Understand and track audience behaviour with your products and retarget them with the relevant information across various platforms.
When used strategically, video retargeting can be an effective tool in actively engaging with your audience and achieving your final objective through the campaign.
If you are keen to learn more about Wootag, you can:
REQUEST A WOOTAGED MOCK BASED ON YOUR OBJECTIVE
When used strategically, interactive ads can be an effective tool in actively engaging with your audience and achieving your final objective through digital campaigns.
Wootag makes your audience a part of your brand and as a result a part of your story.
Leveraging these tools can widely increase the efficiency and the growth spectrum of your Business by converting your viewers into customers using immersive technology effectively bridging the gap. We'd love to hear from you and learn how we can help you.
So, if you're considering using Interactive Videos and want to know more, drop us a line and let's chat about it.

References:
1. https://wistia.com/learn/marketing/retargeting-with-video
2. https://revx.io/blog/video-retargeting-ads/
3. https://www.socialmediatoday.com/news/3-ways-to-use-video-in-remarketing-campaigns-and-why-you-should/561897/
4. https://mailchimp.com/resources/what-is-retargeting/
5. https://www.criteo.com/wp-content/uploads/2017/07/Interactive-Video_one-pager.pdf
6. https://www.criteo.com/wp-content/uploads/2017/07/Interactive-Video_one-pager.pdf
7. https://madgicx.com/?gclid=CjwKCAjwvuGJBhB1EiwACU1Aifrq2yo7oSGVKQRCTC-xFSGypAKaDkqC9Bf130CbDTCAHelYN9b4BBoCaIkQAvD_BwE
8. https://www.criteo.com/blog/video-retargeting/
Related posts