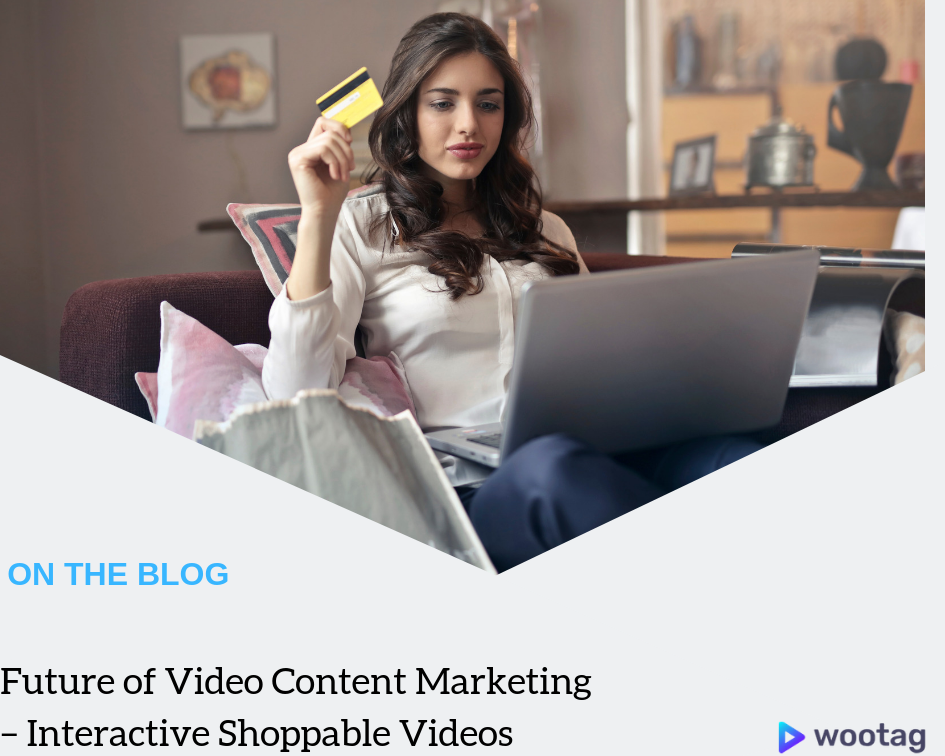 Future of Video Content Marketing – Interactive Shoppable Videos
sharmila, 5 years ago
0
8 min

read
5892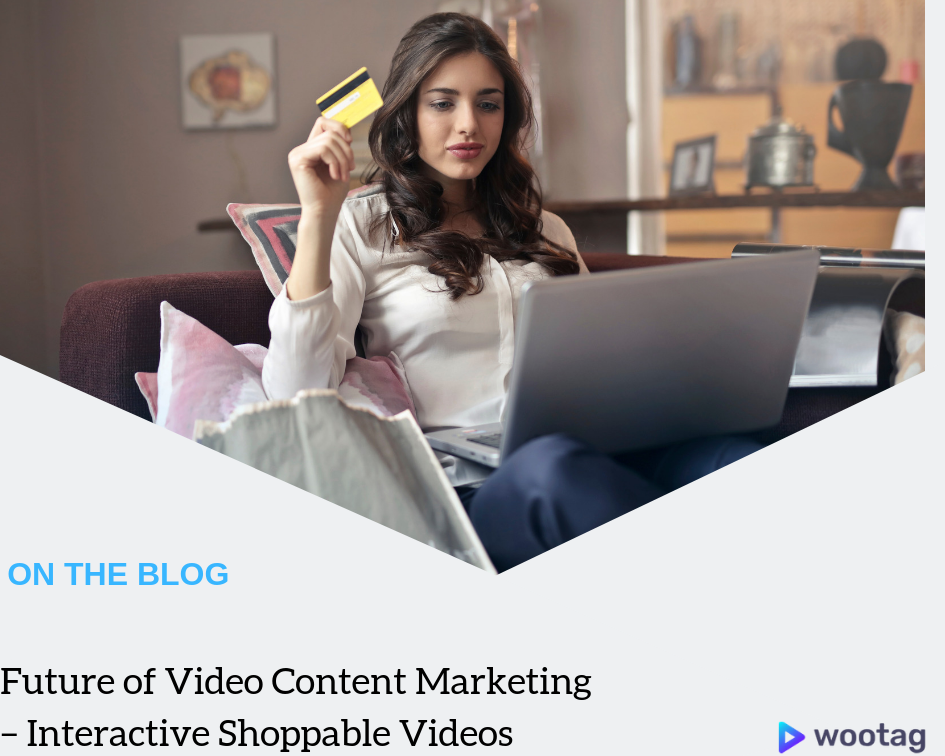 Shoppable videos have been termed as the "Rising Star Of Your Marketing Strategy". Video content that helps viewers turn into customers is a boon when used effectively. Shoppable videos simplify the buying funnel, they give you more consumer engagement and conversion rates but most importantly, they help you identify potential customers and provide actionable insights. Research has shown that 91% of buyers prefer visual and interactive content over traditional forms.
We already know this year people will be watching more videos, which means many purchase decisions will be made through your interactive video and social media content. So what is the future of shoppable videos and what kind of interactive video content will work best for you? Here are some trends that will help you answer these questions.
1.User-Generated Content
Interactive videos that have user-generated content is the way to go with shoppable videos. After all, your goal is that the viewer feels the need to purchase at the end of the video. Incorporating user-generated content in your shoppable videos makes your products trustworthy right away. When viewers see how people have liked your products and used them, they don't think twice before clicking on the buy option.
For example. London based Fashion blogger Julia in Disguise has used the hashtag #asseenonme, to showcase some of the fashion brands she is wearing in the image. Obtaining user-generated content is easy, and you can search for them using common hashtags. Create videos using these images, or better yet, run social media campaigns to a request for short videos from users. Integrate them to create shoppable content.

2. Shoppable videos with a good mix of themes and content
When you create a video channel for your brand, make sure you decide on a combination of themes and ideas which you will focus on, for your content. This way, your shoppable videos don't all look the same. Let's say you are looking to create videos for your company which is a fashion brand. All the videos in your channel need not be about fashion trends and customers carrying your label. You can have interactive videos that talk about other aspects of your products as well.
For example. When it comes variety in shoppable video content, nobody gets it as right as Net-a-Porter. Their videos have a range of themes from how to videos, to inspirational messages from celebrities, to fashion advice and more. Net-a-Porter keeps viewers coming back for more content and more products. Now isn't that a win-win scenario?
Levis x Justin Timberlake. Endorsement of celebrity can increase customer purchase decision, and they are more likely to make an in-store purchase by x10 after seeing your ad. Advertisement featured celebrities appeal stronger to your customers' emotions. They help to create awareness and gives your brand credibility. People love to see familiar faces on a product, they admire and want to be like celebrities. Take advantage of it to live imprint of your product image for longer in their mind.
3.Shoppable videos will be everywhere
If you think shoppable videos only apply when you are selling merchandise, think again. No matter what kind of product you are marketing, you will find shoppable videos playing a pivotal role in reaching out to your consumers.  Interactive video content has limitless possibilities, irrespective of the nature of your product. This also gives you room to work with innovative content.
For example. Grammarly – an online grammar and spell checking platform has come up with exciting videos to show how versatile the product is. Below is a video of a student using Grammarly for a term paper, video effectively captures the writing frustrations that ensue this process. Grammarly has come up with other videos that show people writing speeches and entrepreneurial pitches. At the end of these videos, people have the option to download Grammarly. Making people watch a grammar/spell check video – did you ever think that was possible? The fact that some of their videos have 80-90M views says that it is possible. As long as your video content is creative, interesting, authentic and give value to your customer, it will get all the clicks you need.
Movie trailer. Everybody loves videos. Sony Pictures showcase trailer of Escape Room movie about a group of strangers who are trapped in multiple rooms and have to solve deadly puzzles to escape. By creating an interactive experience in advertising trailer, Sony brought the immersive and intricate detail of every room to life. The targeted audience of the movie could interact with campaign trailer to experience and explore and escape from the room by themselves. Creative use of interaction in video intrigue and immerse audiences into the movie story. The campaign showed a fresh approach to interaction and unexpected way for consumers to encounter content.
4. Influencers will play a key role in future of shoppable videos
Influencer marketing is on the rise. It's not a surprise to you because "90% of consumers trust peer recommendations, over ads". As influencers become your point of contact with your audience, you will have to find ways to loop them in your marketing plan. Moreover, that means, using them for distribution of your shoppable video content too.
For example. As I was writing this post, makeup artist Melissa Alatorre posted a video on her YouTube channel, which has more than 635K subscribers.  Alatorre's video talked about beauty and makeup products she buys repeatedly. In the 17 hours since the video went live, it has garnered more than 35K views with many product related queries in the comment section. Just imagine the kind of viewership the product is getting, especially from consumers who are ready to make the purchase. That's the kind of exposure your product needs- from a source they trust.
Maybelline. How to combine showcasing new product and increase awareness in a young audience segment? A perfect example of a brand which always knows how to put the best practice into the action and never stays behind is Maybelline — using local Instagram influencers @mskuan and @sweetqismina in a video ad for the Malaysian market. Brand significantly raise awareness and created an impactful engagement by adding the possibility of shopping and interaction to video content strategy.
5. Shoppable videos will also get bigger and better
We have already established the fact in our previous blog post that the future of videos is filled with better technology. Augmented / virtual reality and 360-degree videos will take centre stage in video content. With interactive shoppable videos, it will be no different. Buyers want the same experience with their shoppable videos that they wish to with their regular videos. They are not just looking at the content to shop, they are also looking at it to understand the product or because they trust the brand and follow its updates. So, if you are planning to add shoppable videos to your marketing strategy, make sure you brainstorm content and execution.
For example. Luxury clothing retail company, Ted Baker campaign "Keeping Up With The Bakers" included VR, 360 Degree Shoppable Videos and Instagram Stories as part of this campaign which featured the stylish Baker family promoting their Spring and Summer Collection. While innovative approaches have an impact on the brand, they also influence the customers who intend to visit the store. As Ted Baker's brand communication director, Craig Smith explained in this interview, an approach of this nature "allows people to negate with and have a feeling and sense of the brand."
YSL "Holiday Shopping Fever". Luxury brand YSL creative is modern, daring – always three steps ahead. Drawing inspiration from Maison's sartorial creations, YSL creative show off to the audience super-slim square bullet designed lipstick and of course an iconic YSL woman:  who revels in the paradoxes between couture and casual, convention and rebellion, with an effortless, enviable devil-may-care attitude. Attractive and dragging attention by visually tasteful creation – last holiday seasonal offer by fashion brand YSL showed off their special deals right within the video. Interactive YSL's creative execution drove 3X uplift of traffic to the YSL e-commerce site.
6. Shoppable videos in FMCG
In an era of video, brand look to deliver the instant, direct sale. They simplifying the purchase and allowed customers directly experience brand and shopping within videos. Interactive shoppable videos create an opportunity for the FMCG industry to remove the gap between product and customer. It embedded a strong connection to the brand and higher customer engagement. Shoppable videos reduced customer frustration of constantly redirecting between advertisement pop-ups and website. Interaction in video improved overall customer experience, conversion and loyalty to the brand.
For example. Solid campaign executed by Unilever – Clear brand. Clear created relevant, clear communication and calling a man to step up and take an adventure with an anti-dandruff shampoo. It allowed brand not only to strengthen brand position and value but created an opportunity for the customer to take an interactive challenge without no dandruff concern. Shoppable video was part of a more significant Clear brand campaign which allowed viewers to buy a product directly within a video spot. It showed that including interactive videos into your campaign can enrich viewers experience and bring measurable benefits for the brand.

So there you have it. It's time to step up your game and make your shoppable videos entertaining and creative. As people expect more from their videos, they will expect more from their virtual shopping experiences as well. Whether it's in the store or online, shopping for the right product gives the same sense of joy.
Related posts