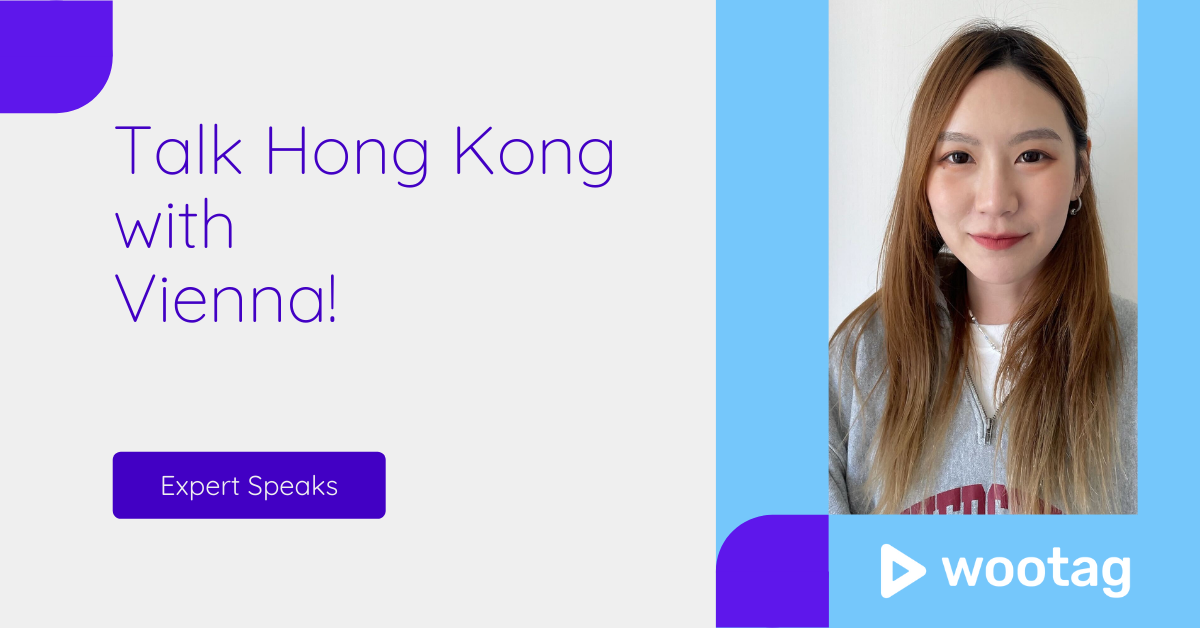 Decoding Hong Kong's take on Interactive Video Marketing with Vienna!
Pavithra Sundar, 2 years ago
0
3 min

read
1200

Next up in our series of "Expert Speaks" is introducing Ms. Vienna Ip who is heading our Operations in Hong Kong. With only a couple months under her belt in Wootag, Vienna has had a commendable start and we reached out to her to learn more about insights and her expert opinion on the booming digital industry in Hong Kong.



Let us take a look below for what she had to share:
Q: What is the current mindset of interactivity in the country? How open do you find the country to explore interactivity in their ads?
Vienna: Overall the brands are pretty conservative about new features on ads since we don't have many ad / marketing options in the industry for now. Marketers in the region are still adapting to the shift in the industry and its a balance to maintain what they've known for long vs integrating to the new additions and developments.
But it is believed that many
Brands / agencies will be quite interested in Wootag as we can gather the data / insights that the brands are looking for.
Q: What are the audience behavior patterns observed through conversations or brand expectations with interactivity?
Vienna: Most of the time, the brands are expecting (1) brand awareness and (2) sales and purchases with interactivity.
Overall their knowledge on how to uplift engagement is still in the nascent stages- for e.g. they always look for KOLs & giveaways to draw engagement.
Q: Now, let's discuss verticals! Which vertical did you find where brands are more open to exploring?  
Vienna: Basically, FMCG (Fast Moving Consumer Goods) are easier to explore as our Wootagged features can directly link with their CTA to drive sales & purchase. As FMCG consumers are comparatively elastic, Wootag can also help them to gather the data that the brands want in one platform.
Luxuries are also another vertical where the value proposition is high as there are tailor made features perfect for brands which makes their video assets stand out more.
Verticals with stricter laws and regulations that command the creative and marketing strategies take a longer while to break into.
Q: Can you expand on the prevalence and the importance given to localizing an ad experience for the viewers?
Vienna: Most of the FMCG brands required adaptation to local languages as their target audiences are mainly local. While for luxuries, some of them continue and prefer using English for a wider presence.
Q: What was a challenge you faced & overcame during your experience?
Vienna: One of the biggest challenges in Hong Kong is there is a very scarce inventory in the market. Therefore the number of impressions and the volume of delivery is limited.
However,
Wootag's compatibility with multiple platforms, ad networks provides a great opportunity to expand the brands reach.
Q: What, in your opinion, is the best way to do market research/what research did you look into prior to starting to reach out to clients/brands in Hong Kong?
Vienna: The best way to do market research is always keeping yourself updated on the latest trends and advertisers in the market. Reading news, understanding the brand and their competitors are always the key. Just taking this recent pandemic situation as an example – we can reach out to personal care brands such as Dettol / Walch's / Food delivery companies which are probably having more budget on marketing given the current economic climate.
With a growing digitally active user base Hong Kong's potential growth is unparalleled.
Reach out to us to learn more about Interactive Insights specific to Hong Kong and how you can join aboard the Interactivity wagon!
If you found this interesting,
Reach out/Get in touch with Vienna for any queries/assistance at vienna@wootag.com
Related posts