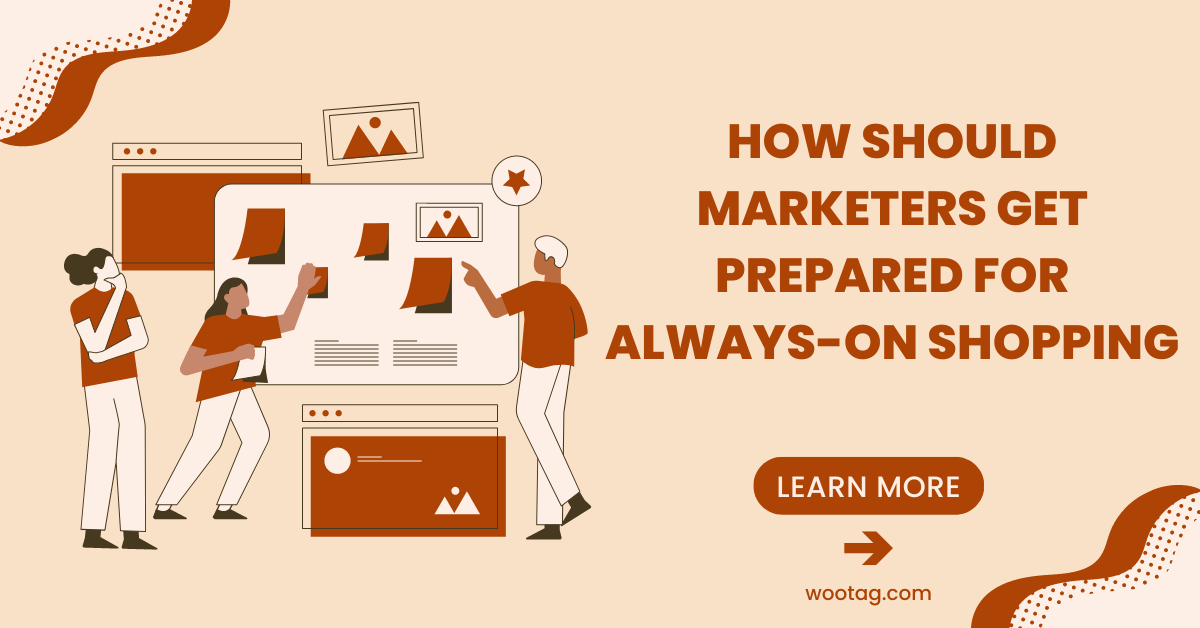 How should marketers get prepared for always-on shopping
Anshul Trivedi, 1 year ago
0
4 min

read
1355
Recent research shows that, in the last year, over two billion people purchased goods or services online, and retail e-commerce sales exceed 4.2 trillion U.S. dollars worldwide. According to Facebook's report, Online shopping has grown nearly 85% annually in Southeast Asia with more than 350 million consumers making online transactions in 2021. Providing consumers the support to shop online 24×7 with the same experience as in-person shopping is what the next transformation businesses are looking for. 
To support the brand in building a flourishing e-commerce business, marketers need to take a holistic approach that integrates data and insights with actions.
Marketers has to catch up in the fast-growing and ever-evolving online space.
Gaining insights through interactive campaigns to understand your customers
Before reaching a larger audience and driving real ROI (as in sales, revenue and leads), you need to understand your audience's behavior. Interactive advertising allows the viewer to choose the narrative of the video like playing a video game. By adding Polls or Questions into the video, brands can understand the audience's preference and need based on their choices.
Interactive videos stand out as the ideal approach to build audiences based on various engagement parameters and personalize the video content by creating multiple segments and running individual tags per segment. Brands can also study the drop-off rates, position, time spent of an interaction, unique viewers, responses, and a number of times it was viewed.
Utilizing the data to create awareness
With the audience insights summarizing their demographics, consideration and purchase intentions, you can influence them when they start to research. A shorter form of video sharing on social media is one of the best ways to start with boosting your brand's awareness. As viewers have a low span of attention on social media, you have around 3-5s to attract them and seize curiosity.
Wootag's data shows that Interactive Ads can drive 9X higher impact on consumer's purchase intent. You can add interactive elements and build multiple interactive functionalities into the video to enrich the viewer's experience. For instance, adding hotspots which are areas that are clickable in the video can bring viewers to another website or content in the video, such as product information or pricing when they click on the hotspot. A quiz can combine branching and hot spot to deliver an assessment, and give out a personalized result.
Influencer shoppers and engage them when they start to consider
Getting people to start thinking about your brand and seeking more information about the products and services that you offer is the next. Engaging shoppers with personalized video content with user intent data and product recommendations is one of the marketing trends under the always on shopping era. You can tap into an unexplored scope of customer experience that allows the viewer to watch, explore and engage with the product based on their preferences to boost engagement and conversions.
You can bring your audience one step closer by inviting them to visit offline from within your videos, or showcasing multiple products or variants with tags in the videos based on their choices.
Driving real actions with shoppable videos
Helping your audience make a decision is your end goal. A shoppable video is playing a key role in reaching out to your consumers. Not only reduced customer frustration of constantly redirecting between advertisement pop-ups and website, it also improved overall customer experience, conversion and loyalty to the brand.
Based on the nature of your products, you can tap on different interactivity to engage shoppers in the video. For example, a hotel or travel company can enable customers to book a flight or accommodation within the ads or video spot.
To get better results, you can test and examine different versions of interactivity. Not only showcasing the brand's featured offers and products with the availability to buy with a few clicks, enabling offer codes within the video is also another way to convert viewers into customers. If you're considering capturing better engagement, you can create a sense of urgency using the Countdown timers with Lead gen.
Review the analytics before optimizing
In the digital world, analytics and data enable you to determine whether you are creating value for your audience. It's always good to review the performance of your interactive video content before considering your next campaign or optimizing it. Through Wootag's solution, you are always able to make quick changes in tag placements, CTAs or touchpoints. Let's include interactive ads in your marketing strategy to boost 24×7 shopping today!
Related posts