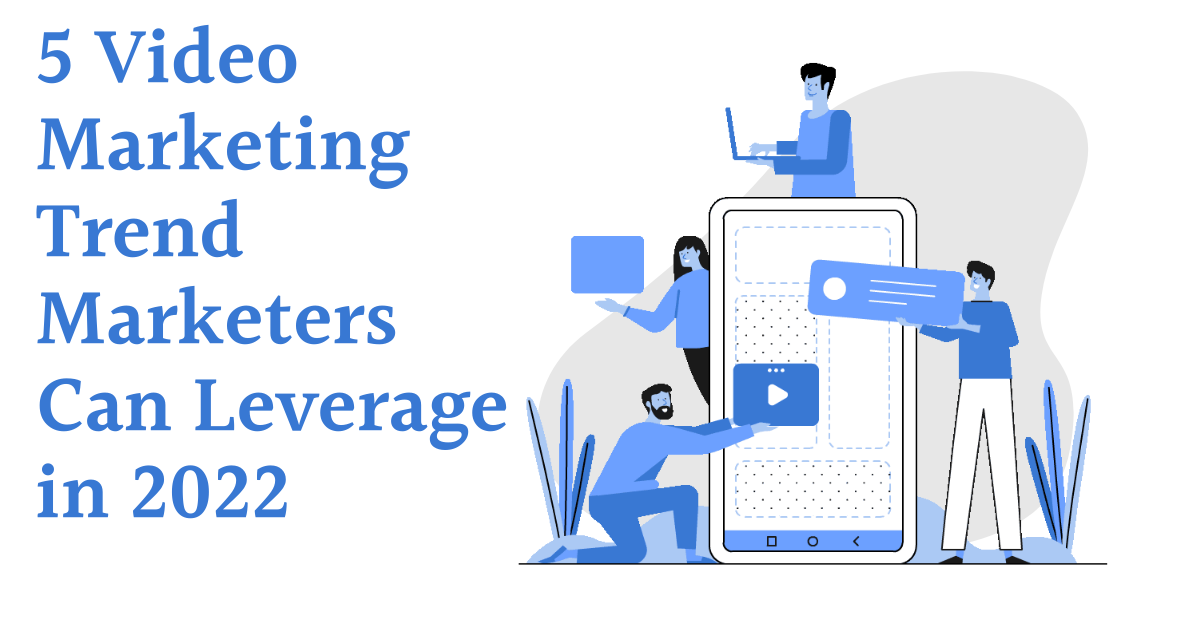 5 Video Marketing Trend Marketers Can Leverage in 2022
Anshul Trivedi, 1 year ago
0
5 min

read
799
Driven by lockdowns and remote work, video content consumption has tremendously increased in the last two years, with consumers watching 14.6 billion minutes of video in 2021, a 121% increase from two years before. Video marketing is expanding and reaching more consumers than ever before across the most popular social media platforms. Every brand is looking for ways to flex its creative muscles via video marketing in engaging with its online customers.
Since more and more consumers spend a quarter or more of their time on watching videos, businesses are using video marketing.
We've rounded up five video marketing trends I believe we'll see in video marketing this year.
The explosion of short-form videos
The information age has changed the general attention span. With shorter attention spans, less is more. People can consume short-form video content quickly and capture the audience's attention easily. We also observed that brands have a strong preference in leaning toward short-form video content.
Short-form videos ranging from 20 seconds to two minutes. According to a study by Wootag, the audience overall prefers content between 15-30s with a minimum average view time of 11s which translates to a minimum reach of 50% of the video watched. Brands are also adopting innovative ways to increase completion for videos that are 30 seconds or more. For videos created by brands that are 30 seconds or more, we have seen brands adopting innovative ways to increase completion such as letting users watch more at the end of their 30s or enabling an interactive means to watch the remaining or building sequences. If you want to capture the audience's attention easily, a short video across 15 to 30 seconds is your choice.
Live video drives far more engagement, and the demand is increasing
A recent study projects that the global video streaming market will reach $184.27 billion by 2027. With 5G technology, it will open up even more new opportunities. Live video is a way to expand your digital presence and potential customer bases by attracting thousands of viewers on social channels.
Moreover, live streaming leads to discussion amongst viewers. In general, it drives six times more interactions over regularly posted videos. The raw footage with "no-retakes" creates a sense of intensity that isn't as mimicked in pre-recorded videos and facilitates two-way communication. It helps customers know brands up close and allows brands to showcase their products or services in an authentic manner. Thanks to the direct interaction with audiences via live comments and Q&A, brands provide audience engagement to viewers which make them feel like VIPs.
Interactive videos are booming
Interactive videos enable the audience to interact with the video content itself in a variety of ways (including branches, data inputs, and quizzes). With interactivity, on average 7 seconds are spent interacting with the elements of the video that promotes consideration of the product and/or brand itself.
Through the branches, data inputs, surveys, and quizzes, brands can understand the users who they are and what they are interested in. It can be an effective way for marketers to build their target segment. Customized solutions and services can help Business and Finance brands to engage with their customers according to the needs of their audience. In the automotive industry, where promotions involve a lean forward experience with booking test drives, sign-ups for the latest deals, and first come first serve services.
We have seen a jump in conversions through sign-ups, product sales, and a minimum 4X uplift of awareness from the campaigns with the interactivity on our platform last year.
Men's health company Roman ran a very successful campaign to educate users about their products using instant experience and doubled their CTR and sales with a 45% higher conversion rate.
Shoppable Videos Will Make A Big Splash
We are entering the era of always-on shopping as we can window shop throughout the day digitally. According to Google research, 63% of YouTube viewers in the UK say that they bought from a brand as a result of seeing it on YouTube. Bridging the gap between discovery and purchase to deliver a seamless and personalized experience that exceeds customer expectations is critical.

Interactive shoppable videos can simplify the purchase and allow customers directly experience the brand and shopping within videos. It reduced customer frustration of constantly redirecting between advertisement pop-ups and websites. Interaction in video improved overall customer experience, conversion, and loyalty to the brand. On average, interactive shoppable video drove 4X uplift of traffic to the brand's e-commerce site.
Data-led video marketing campaign will drive the success
In the digital era, indicators like impressions, completion rates, and clickthrough rates will allow marketers to quantify overall campaign performance. Beyond this, there are some ways to gain specific insights and measure it like other digital marketing campaigns to make your future campaign successful.
By creating multiple segments and running individual tags per segment, you can build audiences based on various engagement parameters and personalize the video content. Planning a device-wise campaign is also a way to understand more the behavior of your target audience and optimize your strategy based on the data.
Each of the campaigns has its uniqueness, utilizing data to analyze and decide the time of interaction in the duration of the video, and real-world signals such as time, weather, sports, etc to create dynamic interactions are both vital to make the campaigns more effective.
Conclusion
Video Marketing has never been more important for brands to connect with their audience, capture their behavior and eventually nurture them to a purchase or conversion. Under the new normal, marketers have to integrate Video Marketing into their digital marketing and content strategy to reach and engage with audiences. You will capitalize on this growing segment to increase conversion rate and superior reach, and deliver a personalized experience to audiences.
Related posts