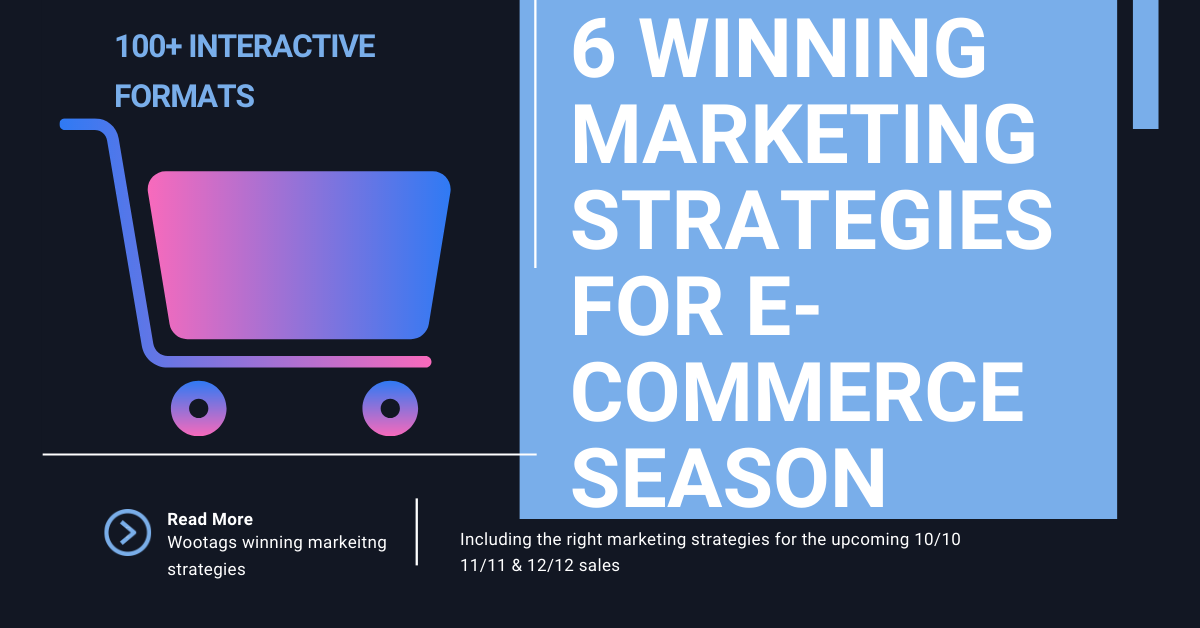 6 Winning Marketing Strategies for E-commerce Season (Part 2)
Anshul Trivedi, 1 year ago
0
2 min

read
1196
In the last blog post, we share some best practices for brands to drive business in the eCommerce season. In this post, we reveal more strategies for you to shorten the consumer journey and speed up product discovery. 
Enable Countdown & Code Redemption for Shopping festivals
Shopping festivals like Thanksgiving, Black Fridays, 11/11, and Christmas are known for massive discounts and special offers valid for a specific time period. Brands can surprise their customers with interesting and attractive deals and offers. By adapting code redemption format advertisements in the display or video creatives, you can encourage your customers to revisit your online store frequently to avail of the offers and allow them to interact with your ads by sharing your discount codes and offers. You are also able to map audience behavior, retarget to a narrowed interested audience segment & enable conversions from the ad itself.  
Create Shoppable Content on Social Media
According to a study by New Accenture, shopping on social media platforms is expected to reach $1.2 trillion globally by 2025, which is three times as fast as traditional eCommerce. 
This is no doubt that social media plays a vital role in Gen Z and Millennial's digital life. Social platforms are the entry point for everything they do online. So, creating shoppable content on social media which enables visitors to directly purchase the items by either taking them to the product page or giving them the option to add it to their cart is one of the key trends to drive businesses.
Social media posts consisting of product tags are the typical type of shoppable content, and this feature is available on Instagram, Facebook, Pinterest, and TikTok. Users can complete their purchase in just a few clicks, and there are fewer instances of people abandoning their carts due to complicated buying processes. This also enables merchants to measure conversions easier and analyze consumers' behavior. 
Adding Interactive Last Mile & Price Comparator in your Ad
It always takes a few steps from researching the product and reading reviews to comparing the offers and prices for a consumer to purchase a product online. Not every customer will choose the product with the lowest price, they consider various factors based on their personal preferences and needs. To eliminate hesitation and shorten customers' decisions making process, adding the last mile & price comparator providing the information for their comparison is a great way to impact them. Wootag's commerce template allows the audience to learn about product information, and price differences across websites and get redirected to the shopping cart for a seamless digital shopping experience.
Related posts