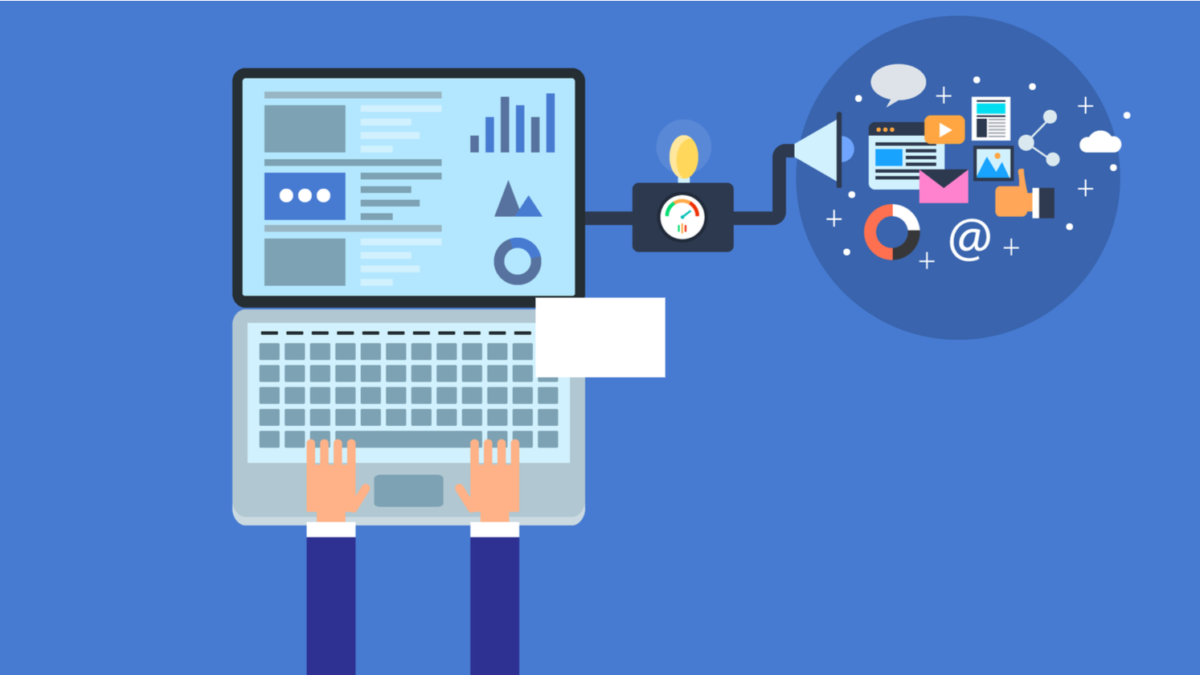 Here's the know-how on Programmatic Advertising!
Pavithra Sundar, 2 years ago
0
4 min

read
1225
What is the present need?
APAC's growing digital audience has been an essential contributor to the changing advertising landscape. Brands and Agencies are tasked with reaching the right audience with real time tracking of the performance. 
In comparison with traditional channels, we see that Programmatic advertising opens doors to serving more tailored ad experiences in these times. 
However, how many people are in fact aware of the scope of Programmatic reach?
"The total digital display and video ad markets in APAC are estimated to increase from $14.5B in 2017 to $19B in 2020, with share from programmatic growing from 19% to 36%.

As more brands rely on automation to serve personalized creative on a larger scale, publishers have a ripe opportunity to adopt a new, data-driven framework and reap the benefits."
What is Programmatic Advertising?
Banner flow defined Programmatic Advertising as, "The automated transaction of buying and selling advertising online. It's the process of using different platforms to sell inventory on publishing sites and on the advertising side, buying inventory and place ads on a publishers site. This is also sometimes referred to as programmatic marketing."


Programmatic advertising helps connect publishers (websites with ad space) to sell- and advertisers (who wish to buy that ad space) to promote their brand.
In simpler words, it means using technology to automatically serve ads that reach the right user at the right time with the right message.
Why should you consider Programmatic Advertising?
Programmatic advertising allows Brands to target their viewers more closely with specific metrics. This means that they can target viewers in the right place or platform at the right time – eliminating viewers who are less likely to be interested in your product or service. 
Targeting solves just one part of the problem and the rest remains on how users can be engaged real-time. With the likes of platforms like Wootag, you can build an interactive experience to drive meaningful engagement with your audiences. Learn more about various interactive experiences here.
With Programmatic advertising, the performance of each ad is measured in real-time. Real time tracking allows brands and agencies to optimize campaigns immediately – introducing adaptability in improving performance. 

This helps in having a clear oversight on their ad spend as well. 

Programmatic insights can go beyond generic insights like Impressions and Spends by applying interactive tags which allows brands to drill down in-depth of behavioral insights which others decrease the scope of advertising.
Multi-platform and channel flow: It allows you to reach audiences across devices: on mobile, desktop, tablet, in-app, via TV and even out-of-home. 
Here's a summary of the benefits, highlighted by In-Mobi: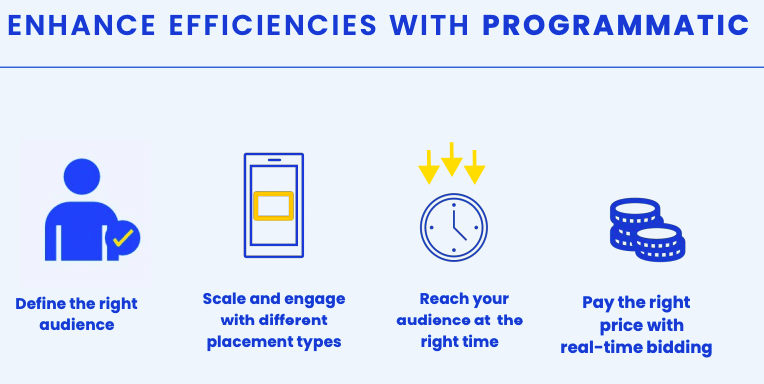 What are the different types of Programmatic Advertising
Display
The first format of programmatic advertising was display. Displays have also gone through the mill of technological developments and we have dynamic display ads in addition to static display ads! Now one can target the user with the right offering at the right time. 
Video
Buying and serving video programmatically – across channels – is a key strategy for marketers. In fact, it is quoted that "Programmatic Video ad spend is predicted to be $13.4 billion in 2019 and account 76.5% of how all digital video is spent."
There are 2 types of programmatic videos: Instream and Outstream.
Outstream video ads are because the video ad exists outside of online video content and Instream video ads is where the ad plays either before (pre-roll), during (mid-roll), or after (post-roll) the publisher's video content.
Learn more about lean back and lean forward experience along with the possibilities of running your own interactive units across Instream and Outstream. 
Native Ads
These are programmatic ads that blend into the content either on a website, social network or other application. Native ads is where the ad experience fits the form and function of the publisher's content – giving the user a positive and a seamless experience and resulting in a better performance.
Quoted by Jake Colly at Google, "Businesses in the region are expected to ramp up their programmatic investments by 17% in the next year."

As technologies continue to add a digital touch to traditional platforms, a variety of media options are being used programmatically. Joining this experience will only allow the end user to experience a change in how content is presented and delivered more efficiently. The future is bright and the trend is on the rise for Programmatic Advertising for marketers across geographies, brands and industries to explore and make use of.

Reach out to us to learn more about this and how you can join aboard the wagon!


Banner Flow: Guide to Programmatic Advertising; Think with Google: Myths about Programmatic Advertising, Enabling Programmatic Success
Related posts