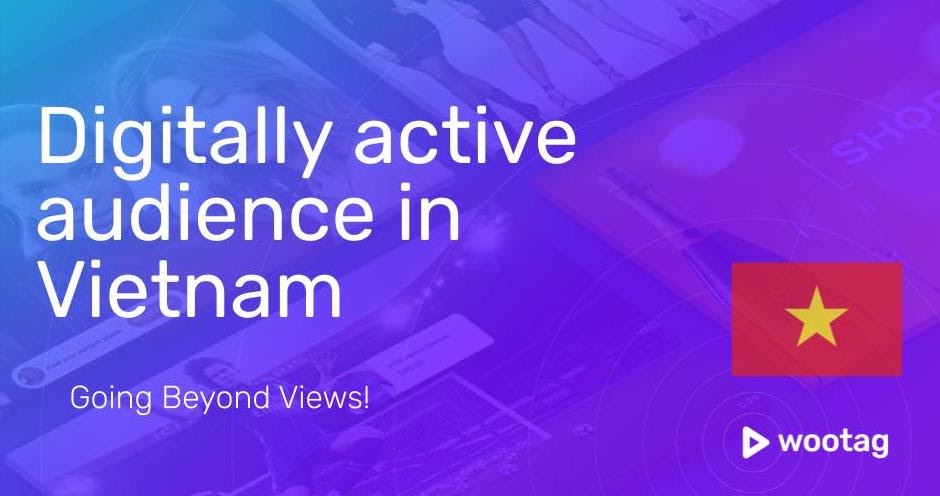 Learn More on how Vietnamese audiences are amongst the most digitally active in SEA
Pavithra Sundar, 2 years ago
0
4 min

read
992
Southeast Asia is the fastest growing region in the world when we speak of digital advertising spend – comprising countries like Hong Kong, Vietnam, Singapore, Thailand, Philippines etc. Vietnam being one among the top most digitally active audiences within South East Asia. In fact, ongoing research suggests that it's a mobile first market, with over 70% of the population using mobile devices as the primary digital platform.
The above claim is further supported with over 50 million impressions in Vietnam across 6 different verticals, with an observed interaction rate of 8.8% and an average completion rate of ~55%! Some of the most interacted products from Vietnam were from within the Technology, F&B and Home Care space. Taking from above, we decided to take a look back at some Wootagged executions in the region to understand the audience's preferred interactive formats in line with the top three objectives they choose to tackle.
Online to Offline Purchases
"Consumers in Vietnam like to peruse online but make purchases offline. In fact, of the 70% of Vietnamese audiences that click on search ads, 45% make an in-store purchase as a result of their search. This means businesses should ensure that advertised products are available for purchase in physical stores."
Inferring from above, we notice a prevailing trend in the market is Online to Offline Sales. This presents an interesting observation for online advertising as the objective is skewed towards online purchases. However, despite the growing comfort in being 'digitally savvy', we notice that sales are still evidently dependent on offline visits. One of the ways, we at Wootag, have equipped for this is through our Store Locator & Near Me formats.

Brands can leverage the prominence of digital campaigns in the country to showcase their products and services while introducing the interactive component which serves 2 purposes:
1) Aims to engage their audience with the content -differentiating them from a sea of online content while,
2) Encouraging them towards offline visits to Stores, Showrooms, etc through our Store Locator format which enlists the nearest options for each audience according to their location.

2. Commerce
In keeping with times, while the interception of digital campaigns and presence increases, the feasibility of visits to physical stores is dependent on a variety of factors – Location hurdles, In Store Product Availability etc. Hence, there is a need to make the online purchase funnel a smooth digital experience for the audience.
At Wootag, we enable the audience to shop from within your Video and Display Ads – Driving Sales along with top of mind retention of your product. By eliminating the numerous hop-skips in between your video advertisements till the consumer browses your brand website and clicks 'Buy Now', the drop off rate is highly reduced : A boon for the customer and the Brand.
3. Lead Generation
The extent of resonance of an Ad with an audience is conditioned upon its relevance. Hence, targeting the right audience is of utmost importance. Segmenting the audience based on geographic, demographic factors allow for a more engaged interaction with your brand, fostering a connect. Apart from a generic idea about your target audience – How can you apply tier 2 segmentation for your industry, brand or product?
With Lead Gen format, brands can take advantage of their re-targeting efforts narrowed specifically to customers who have engaged, participated and expressed interest with your content. The right message delivered to the right audience leads to a nurturing relationship between your brand and your audience.
4. Lean Back Interactive Experience with Skins
Prevalence of OTT platforms is no secret to us given its unparalleled convenience. Wootag's Skin Experience replicates this advantage by providing the audience with a lean back interactive experience.
How, you ask?
The audiences can now browse through product catalogues, have a better recollection of your product/brand messaging and have easier, one step access to your website — all while watching the video simultaneously.

With a 70% digitally active user base and a growth rate of 10% annually, Vietnam's potential growth is unparalleled. Reach out to us to learn more about Interactive Insights specific to Vietnam and how you can join aboard the Interactivity wagon! Learn more about us, here.
Related posts