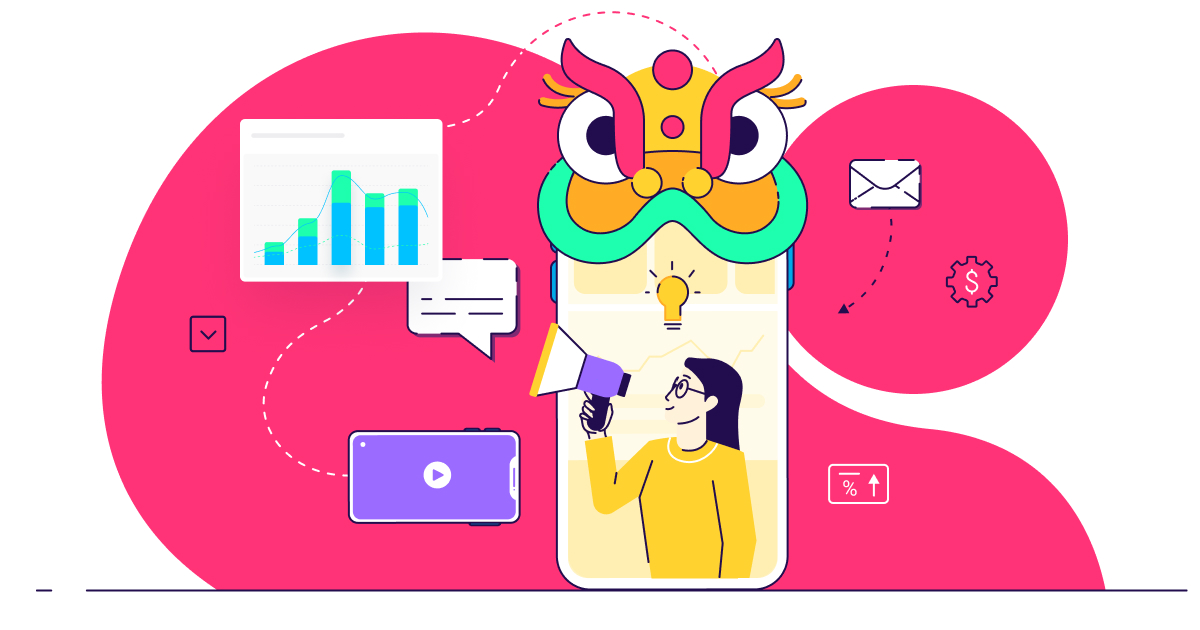 This Tết, go Digital, go Interactive
Pavithra Sundar, 2 years ago
0
4 min

read
1260
With 3 months to go, most of us are in the transitory period between year end planning vs planning ahead for the beginning of 2022! In this blog, we'll take a look at how brands can prepare for the incoming precious Tết festival in Vietnam!
Think with Google, recently published a few interesting statistics on how Brands can connect with Vietnam during Tết given the restrictions placed due to Covid-19. To no surprise, we must adapt ourselves to meet the needs of our audience and here's how we can look at a seamless transition.

In the article, three primary points were highlighted:

1. Go where the people are!
2. Customize your content to your target audience
3. Drive sales while you are at it! 
Let's take a closer look at the above points and what they can mean for brands & how you can use this.
Go where the people are
As vague as the line is, it couldn't have been said better. Prior to recent times, TV broadcasting was the primary means of advertising as well as the source of family fun and entertainment during festivals such as Tết in Vietnam. People learnt of new discounts, offers, product reveals etc through this medium and it applied to audiences across the country.

However, in recent times we see the word 'Broadcast' replaced with 'Streaming'.

In fact, amongst the 95million population of Vietnam, 25million stream youtube on connected TV's in the month of May 2021 alone.
CTV's are increasingly popular in this day and age whether that's streaming youtube, OTT platforms (netflix, hulu etc) and more! Infact, we at Wootag introduced Interactive QR for CTV's.
Drive Viewability & Product Interactions with Interactive QR for CTV's
Along with increasing the reach and awareness of your brands through CTV placements, Wootag allows you to now engage your audience with interactive QR placements within your ad campaign!
To learn more about this, drop us a line or check out what we do here!
Customize your content to your target audience
Localising content and customizing your offerings are a few of the must do's in the personalization objective of many digital campaigns.
For a linguistically diverse audience in a country like Vietnam, it's imperative that we tap into Vietnam's audience behaviour over the years and their response.
For example, cities of Hanoi & Ho Chi minh prefer video ad campaigns of under 15 seconds with an interaction & completion rate of over 70% whilst Vung Tau and Danang present higher interaction rates for under 30 seconds video.

In addition, we've observed higher completion rates for lean back formats with local messaging over messaging presented in English.
Personalise your content to your audience
Here's an example of using Wootag's Hotspot format presenting the audience with a lean back experience customised for the target segment to understand the product details and nudge them towards commerce.


Drive sales while you are at it!
With Tết signifying the start of the new year, comes an influx of shopping plans for the house, gifts, renovations etc!
Infact, Tiki (an online platform) quoted that it observed a 50% increase in the volume of transactions from January of 2020!
Given the prominence and choice of multiple online stores, it is important that brands look at driving traffic through their ad campaigns. With youtube as a platform with a significantly high penetration within Vietnam, at Wootag, you can leverage engagement and reach both together!
Drive traffic with your campaign
As shown below, factoring in interactivity within the videos as viewers watch your ad amplifies the commerce objective where the consumers are nudged to visit your website with a clear CTA and landing page to your website/preferred e-commerce stores and can do so from within the video ad for a seamless experience!


To learn more about this, drop us a line or check out what we do here!
With another year of immersive digital penetration and experience, brands should look at exploring a more targeted approach with their campaigns to drive objectives of Reach, Awareness & Sales.
If you are keen to learn more about Wootag, you can:
When used strategically, interactive ads can be an effective tool in actively engaging with your audience and achieving your final objective through digital campaigns.
Wootag makes your audience a part of your brand and as a result a part of your story.
Leveraging these tools can widely increase the efficiency and the growth spectrum of your Business by converting your viewers into customers using immersive technology effectively bridging the gap. We'd love to hear from you and learn how we can help you.
So, if you're considering using Interactive Videos and want to know more, drop us a line and let's chat about it.
Resources:
https://www.thinkwithgoogle.com/intl/en-apac/consumer-insights/consumer-trends/marketing-strategy-during-tet/?utm_source=twg_socialboosterlinkedin&utm_medium=paidsocial&utm_campaign=marketing-strategy-during-tet-twg_socialboosterlinkedin
https://blog.boxme.asia/lunar-new-year-tet-2021-in-the-phase-of-covid-19/
Related posts