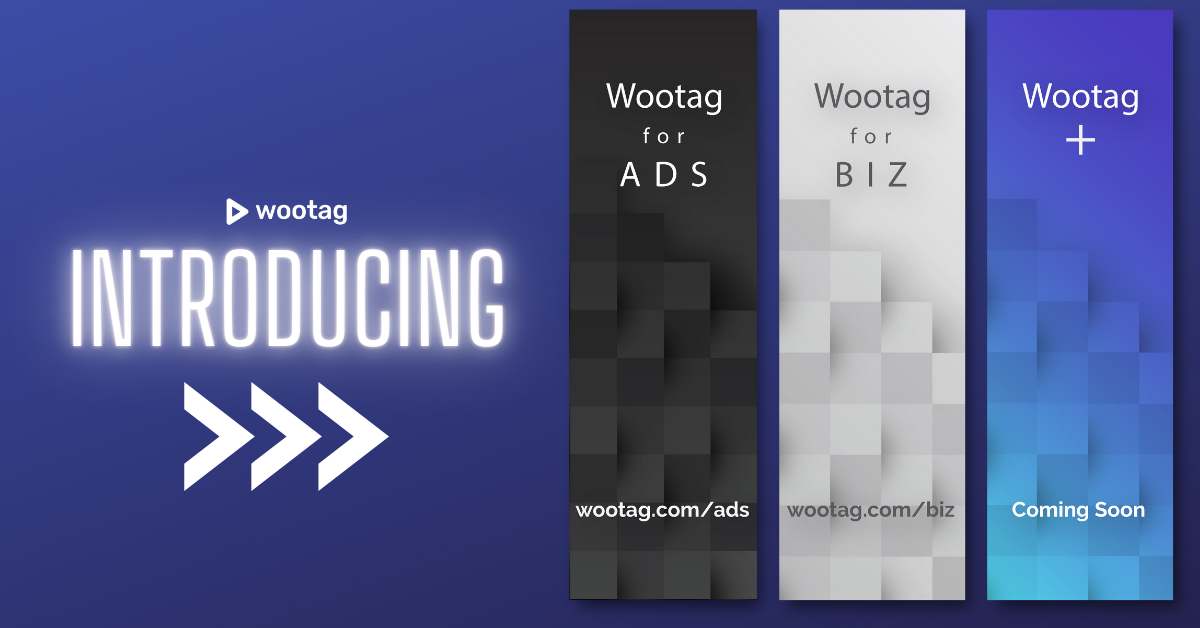 Empowering Wootag's Vision with key pillars of growth!
Raj Sunder, 1 year ago
0
4 min

read
1236
For the ones who may not be familiar with Our Vision here is a quick recap, Vision is to Empower Human Curiosity within any Visual content" and we have been 100% true to our vision since its inception. Last few years we have seen our technology be the prime use case across various forms of brand advertising generating billions of views on the platform. Top it up there has been an increase in B2B focussed brands leveraging Wootag technology for their Sales and Marketing along with the rise in live media and Blockchain use cases. Guess you are now figuring out where we are heading. For the right guess, I am leaving a few surprise cookies at the end of this article!
The right time to double down on the video and visual advertising landscape!
At Wootag, we have a front-seat view of the way audiences across geo consume and interact within any wootagged advertisement. This has only tripled from the time we succumbed to a covid wave and showing no signs of weaker momentum. In addition, video consumption across users has skyrocketed to a growth machine, and thanks to OTT, Social platforms leveraging videos with hotspots and interactions ( drumroll please: we started this trend way ahead of time in 2013 ) 
Additionally, Wootag technology is now integrated across most of the advertising/marketing technology platforms to enable marketers a plug-and-play approach to their marketing spending and drive a close 3-5X uplift in performance and cost efficiencies. With this, we are now launching Wootag for Ads as an individual business vertical focused on all forms of advertising and it is also a perfect time to bring in a more focused approach and amplify our strength in the space of Interactivity and Intent marketing. To lead this vertical, we have upped our leadership with Jeffrey Kwan taking over this baton and unlocking the fullest potential of Wootag Ads! Onwards and Upwards!
Hmmm, this is the only thing we anyways do? Hang in there
Last year, we have been busy eating our own dog food ( not clear what is it – here is a reference ) to drive our sales as well as working with various Small, Medium B2B focussed businesses and brands. Here are some snippets of experiments we did leading to the launch of our 2nd vertical "Wootag for Business",
>> Using Video as a tool and Interactivity as means to drive sales prospecting and understanding our prospect needs through intent.  =  This drove our conversion rates to as high as 60% in comparison to what used to be close to 25-30%
>> Seamless leads / prospect behavior analysis and integrations into Sales / CRM platforms like HubSpot, Salesforce, Oracle, and more. = This drove better effectiveness for the sales teams to engage
>> Giving our prospects the chance to interact with their requirements within personalized explainer or product demo videos. = Avoiding waiting times for calls, and meeting to understand the needs empowering faster sales cycles.
Wootag for Business will now be made available to all businesses and enterprises with a 3rd and unique view towards sales and marketing.
Shhhh..U didn't hear this from me 🙂 My curiosity about the vision has just tripled!
One of the biggest learning and unlearning I have witnessed is the way our human species tend to evolve and adapt to new means of digital engagement. Graduating to be a firm believer in live media, Blockchain, Web3, and the use cases it can create to empower our lifestyles. To figure this out, I will be focussing on our 3rd vertical "Wootag +"
Very soon, we will be launching our 1st initiative as part of Wootag +, and can't wait to test the hypothesis!
Wondering if this is a bit too much to chew?
The answer is within the Vision and Technology we have built paving the way to modular verticals that can unlock new revenue streams without needing ground re-enforcements.
Guessed the narrative? You can leave your mail here and will reach out to get you first in line for some of the new launches! As well as real cookies when we meet!
Raj Sunder
Founder & CEO @wootag - Interactive Video Platform for All http://www.wootag.com , Always Learner, Gamer @ Heart, Tennis player,Chelsea follower!
Related posts