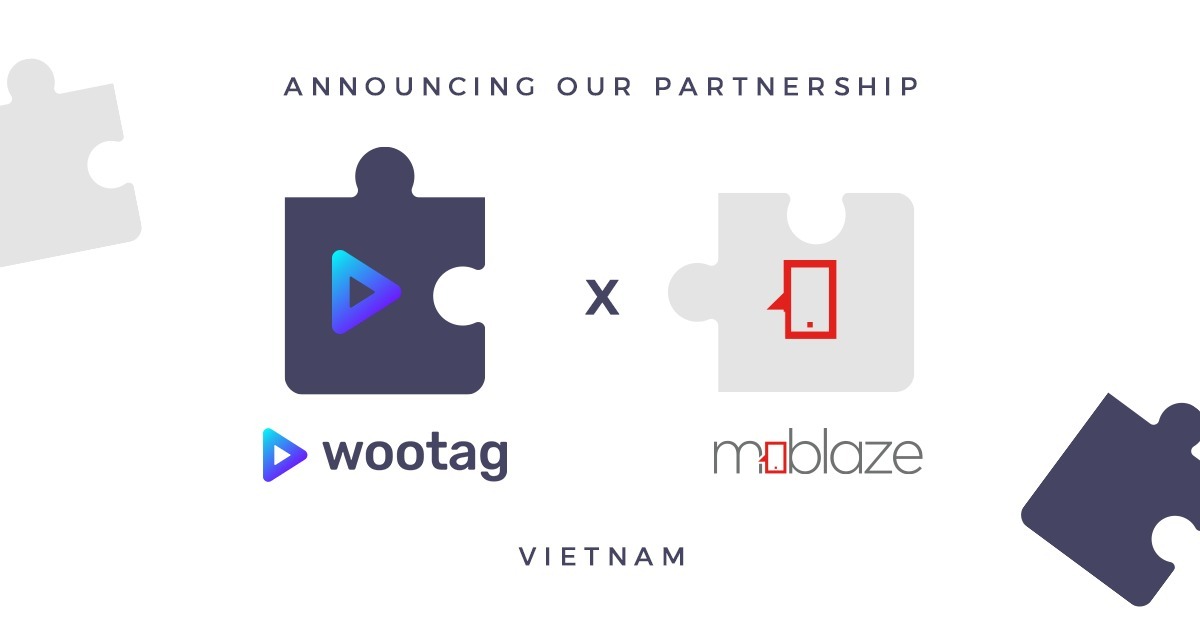 Wootag partners with Moblaze to Scale Vietnam and other Indochina markets.
Raj Sunder, 11 months ago
0
3 min

read
1278
Wootag launched in Vietnam during the pandemic and has been growing steadfastly backed by strong audience engagement along with proven branded case studies. To further accelerate the growth, We have now partnered with Moblaze, one of the leading digital partners in Vietnam with a strong focus on Vietnam and other Indochina markets.
Vietnamese brands and our agency partners have been leading in the forefront using Wootag technology to the fullest across Open Internet and YouTube platforms and with this partnership, we are expecting a rise in brands and agency partnerships bundled with amazing campaigns, performance, and case studies.
"Wootag is committed to empowering brands in utilizing the power of human curiosity to integrate interactive elements, insight, and understanding of audience behavior into its videos and other visuals. Working with a forward-thinking company like Moblaze, brands can leverage our solution through Moblaze to engage with customers, analyzing valuable audience behavior data from multiple perspectives to generate unique insights for the brand. We're looking forward to boosting our growth in Vietnam with Moblaze. " Wootag CEO Raj Sunder shared.
We are excited about our partnership and the massive potential, it holds for the future. In Vietnam, video ads are growing at an exponential rate. With Wootag's technology, brands will now be able to add an engagement element to their video assets making them more valuable. For instance, brands will now be able to go beyond a 'view', and drive users to the E-commerce site which was not possible on a video ad before. And the best part is that this can be done programmatically across any DSP or inventory source including all OTT platforms. "Moblaze CEO Tarun Dhawan shared.
About Wootag
Wootag is an interactive visual marketing platform aimed at creating next-gen visual interactive by enabling brands to discover and leverage video or displays to enhance the branding experiences with their audience and convert viewers into customers. Through deploying relevant in-visual interactivity, they can drive viewability, click-through, real-time insights, and product interactions. Unlocking audiences to interact with the creative in-visual, Wootag's unique solution also empowers brands to deliver product placements, promotions, and creatives focused on real-time conditions, including weather conditions and football matches. Marketers can measure the results easily on a real-time basis to drive an impactful customer experience with an ordinary visual.
About Moblaze
Moblaze is Indochina's premier mobile-agency partner. We provide mobile-first solutions to agencies and clients. Our main services include – strategy, creative, social media, mobile media, and analytics. We also offer marketing technology and data-driven marketing solutions for forward-looking clients aspiring toward digital transformation.
Its AdTech division is powered by InMobi – the world's leading mobile company and by Wootag – a revolutionary technology platform that enables engagement within video ads across ad networks.
Moblaze has consistently been recognized at Campaign Asia's coveted 'Agency of the Year awards in 2017, 2018, 2019, 2021, and 2022. Besides that its work has picked up metals at various regional awards shows including – MMA, MobEx, Dragons of Asia, and eCommerce Awards of Asia.
Raj Sunder
Founder & CEO @wootag - Interactive Video Platform for All http://www.wootag.com , Always Learner, Gamer @ Heart, Tennis player,Chelsea follower!
Related posts