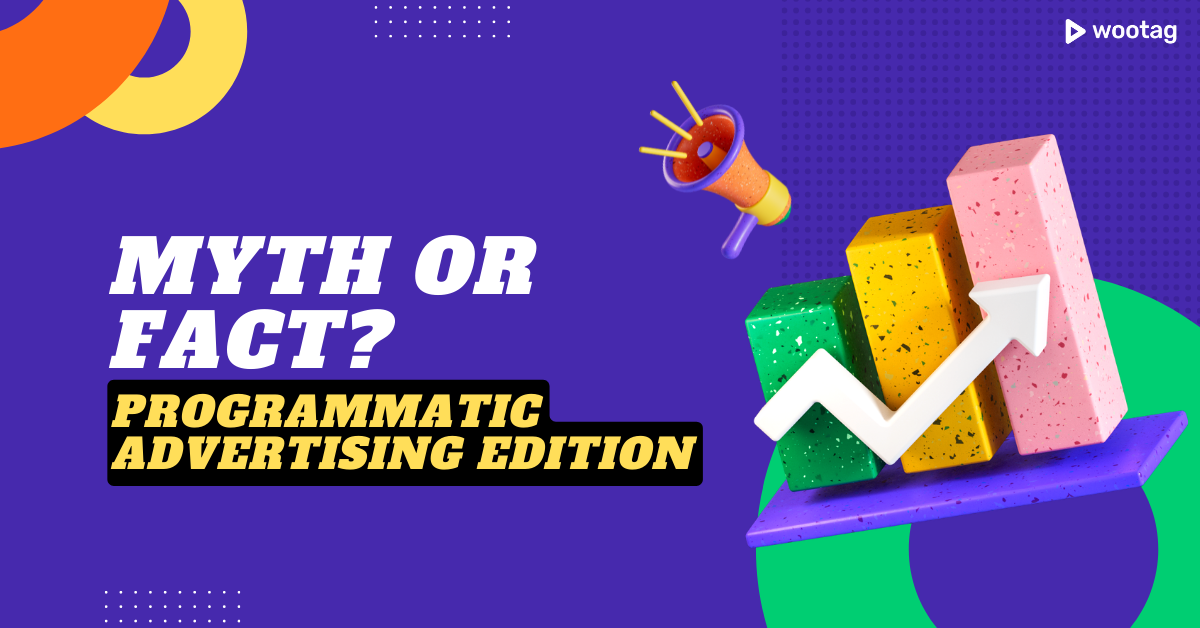 Myth or Is this a Fact? Programmatic Advertising Edition!
Pavithra Sundar, 1 year ago
0
3 min

read
789
Myths vs Facts of Programmatic Buying
Only Unused inventory is available on Programmatic
One common myth with Programmatic Advertising is that the auction bidding is primarily limited to unused inventory. These days, programmatic buying has become the primary choice for advertisers and publishers alike where all types of inventory can be purchased, including 'premium' placements. These were previously held to be private or could be bought via PMP.
With Programmatic buying, we can view an optimized inventory list available for buying. And as quoted, 'Publishers get access to data analytics that help them optimize the pricing for the ad inventory.'
Conclusion: Its's a Myth!
Ad fraud is only prevalent in Programmatic
Fraud has increasingly become prevalent in today's times.
According to Juniper Research, advertisers lose $51 million per day on ad fraud, which may add up to well over $19 billion in wasted ad spend by the end of 2018 (SearchEngine Journal, 2018).
But, according to the Association of National Advertisers (ANA), as media agencies have improved controls and filtration processes, fraud experienced in programmatic buys is no longer riskier than general market buys. Infact, it is observed that with necessary precautions taken, the rate of fraud isn't that varying and is even lower on programmatic buys. In summation, the rate of fraud is alternatively the same if not lower considering that the precautions are being taken.
Conclusion: Its's a Myth!
Human Intervention is Reduced
Even with the automated process enabled in programmatic buying, human intervention is always a key contributor in overseeing the end-to-end process. Automation helps in bringing the data to life, however, human intervention and analysis completes the process required for a thoughtful execution.
"Algorithms generally address the details of any campaign in any given moment, but (human) experts have years of experience and accumulated knowledge about what works for the brands they buy for."
Deciding, Implementation and Optimization requires people to chime in with their knowledge of the brands and what's the right fit, their long term insights gathered over previous experiences on best practices and forming strategies for the overall campaign set up. Algorithms are data based (controlled by humans) and are often relearning for each campaign/set up. Specialized knowledge to string together analysis is key in such creative implementations.
Conclusion: Its's a Myth!
In conclusion,
"As noted by IAS, political, economic, cultural, and media trends can all impact media quality metrics and also be reflected by them."
As the industry continues to grow and change over time, its pertinent that we remain knowledgeable of the current and future changes expected in this dynamic industry. With this, we can consider some of the popular myths, BUSTED!

If you are keen to learn more about interactive videos, how to succeed in creating them with Wootag, you can:
REQUEST A WOOTAGED MOCK BASED ON YOUR OBJECTIVE
Wootag makes your audience a part of your brand and as a result a part of your story.
Leveraging these tools can widely increase the efficiency and the growth spectrum of your Business by converting your viewers into customers using immersive technology effectively bridging the gap. We'd love to hear from you and learn how we can help you.
So, if you're considering using Interactive Videos and want to know more, drop us a line and let's chat about it.
Related posts