Tapping the Facebook Content with Powerful Interactive Videos
sharmila, 7 years ago
0
6 min

read
2431
It's morning, and I have my cup of coffee in one hand and my mobile phone in the other. I am scrolling through my Facebook Page when I see someone share a video of Mo Farah winning the 10,000 m Gold, despite having a brief fall. The video has the background music very aptly selected with the song "I get knocked down, but I get up again", and shows the victorious moment in the end. This is definitely going to be a part of my motivational videos to watch when I feel like I need some visual pep talk. I scroll down further and see an exercise video my friend, who is also a fitness instructor, has posted. I check to see if I can I repeat these exercises at home. This goes on for some time until I reach the bottom of my coffee cup.
Video content on Facebook has become a part of our daily internet life. If you look at the reports on Comscore.com you will see that Facebook comes next to Google sites (primarily Youtube) in desktop video rankings. In fact, in August 2014, as reported by Beet.TV, Facebook surpassed Youtube in Desktop viewing. So if you are considering video marketing it's definitely the time to consider Facebook as a platform in itself to promote your videos.
Facebook as a platform for your videos is interesting because you see these videos showing up on your feed when you are not particularly looking for something. Before you know it, if the visuals and the video content are right you have not just watched the video, you have shared it as well. Considering that Facebook is no more just a social media platform to make connections, but also one to create a strong brand image, marketing videos immediately become a part of this brand building activity. Collectively we not only watch more videos, but we also post more videos. As wersm.com published in April this year, Facebook boasts of almost 8 billion daily video views.
We have to admit that videos definitely catch our eyeballs!
We have all watched them and we know that the most engaging videos have a great story to tell, the best of audio and the best of visuals. Remember this ad that came out during the NFL. I have watched on repeat numerous times. It is funny, addictive and entertaining.
Now that we know that videos are the route to go, we need to understand what kind of videos do the magic.
It seems to be quite simple. Videos that are well executed and that have a clear message. SocialExaminer.com says that is important to have content that will "entertain, inspire, educate, inform" and they also give you the option of "outrage", but let's leave that aside for now. Something that comes to my mind the minute I see these words are the short videos that "Tasty" posts. These recipe videos are quick, interesting and informative –a perfect combination of all the above traits.  These videos are massively popular. As I write this post their most recent video is 8 hours old and already has 7010 shares and 3.2K comments.
The Wootag Factor
Now that you have an idea of what type of videos you need to create, here is how Wootag can help. Wootag helps you make your videos more engaging. OK, Facebook video views are high, but only when these views are converted to some kind of action, can you see tangible results. Let's take the example of the recipe video once again. As your audience is watching this video they are probably making a mental note of all the ingredients and apparatus they need to recreate the same recipe. Now imagine that you are selling a blender ideally suited for this recipe. All you have to do is tag this blender in your video and there you go! You have a recipe video and a sales pitch wrapped in one. With a click of a button, the viewer can now purchase the blender right after they realized how useful it can be.
Distributing the right away
Now that you have the right video with the right product, you need to distribute it the right way. This spreadsheet by Buffer.com is an excellent idea to understand how viewership varies based on the time posted. It also gives you information on the average view lengths. This is key information to tag your product at the right time so that people take notice. Also, make sure you visit their Facebook Page for the best social media strategies plus video content formats to think about. Remember that the content of your video is specific to your expected customer base, and therefore your video distribution should be aimed at them.
Understanding performance
Once the video is up and running there are multiple parameters that you need to keep track of. Facebook gives you information on the average time your video was viewed, the organic and paid views and even the number of times your video was viewed to a 95%. You can also get data on specific demographics of your audience. The "audience retention graph" will definitely point out the weak parts of your campaign. All these features will help you refine your video marketing strategy and understand the response to your product/concept.
How can Wootag Help
So now that you have all the viewer details, Wootag helps you understand how many of these viewers have taken the next step of purchasing your products. Wootag shows you how effective your campaign is. It's not just about views, but also about taps, engagement and even drop offs. The combined information can help you create a powerful campaign that makes the maximum use of the limited time a person gives your video. Refer our Solutions page and read this blog to know more about how Wootag can help.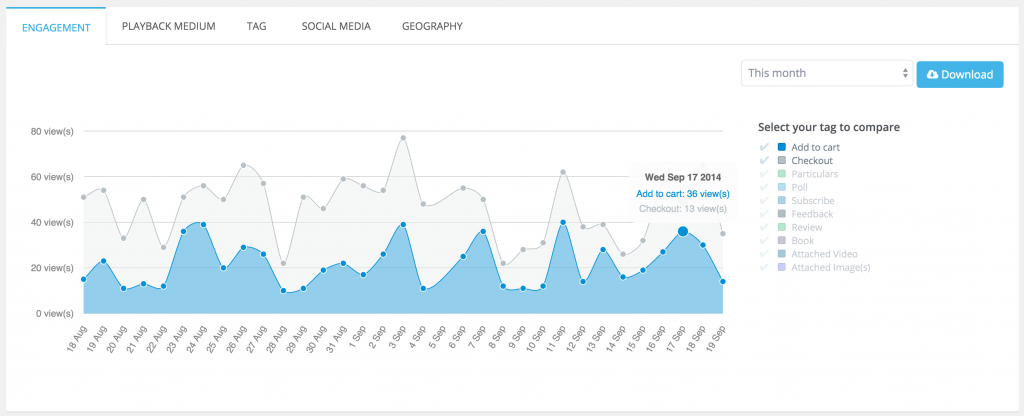 Almost there
All set? Wait, before you start working on your campaign, here are "Five Facebook Video Best Practices", for you to take note of. This simple post by 3qdigital.com gives you a checklist to go by just before you go live with your video. What are the 5 points? Keep your videos short, use a good thumbnail, keep an eye on conversions, CTA and take advantage of direct response. We have always mentioned that the content of your video must be tailored to your target audience. But, your campaign strategy does not end there. Remember to focus on all these points to get optimum results from your campaign.
Now that you are ready to explore the Facebook platform for your videos here are a few points to keep in mind:
Make sure your video content is engaging. Try including information or make your videos inspirational. Let there be something for the audience to take away.
Develop an understanding of how the video works, what is the possible reach, how can you optimize the video for best results. Make sure you have all the information and do a few trial runs to get the best results.
Do pay attention to the aesthetics as well. Make sure your videos are well shot and have great visuals. Remember you do not need fancy equipment for the same. Even the thumbnail you choose matters. So look into all the finer aspects.
References
Related posts